Membership organisations take many different forms, but those representing business sectors tend to be called trade associations.
The term 'association' is defined in Companies House guidance:
Annex A: Sensitive words and expressions specified in regulations that require the prior approval of the Secretary of State to use in a company or business name.
This guidance states:
'This word is normally included in the name of a company limited by guarantee. A one member one-vote clause and a non-profit distribution clause should be included in the articles of association. The non-profit clause provides that any profits are used to further the objects of the company and not paid to the members as dividends.'
We believe the key characteristics of a trade association are:
Members sharing a common interest
A cohort of members make up the governing body and key decisions will need member approval
Membership is corporate: It's for companies as opposed to individuals
Trade associations can be:
Regional
National
International
Sector specific
Sub-sector specific
So, what are associations called?
The Jargon Buster – Definitions and meanings for 800 most useful words and phrases in associations and membership organisations has some handy definitions to help us:
Association
'A legal form or structure of governance. The unincorporated association is a very common, relatively informal structure for voluntary and community organisations of all types. They are membership-based and encourage active membership as an appropriate method of promoting participation. The word association may be used in a wider context to describe an organisational type which may in fact be a limited company and not structured as an association.'
Trade association
'Representative bodies or groups of companies or other organisations with common interests. Most cover a specific sector or sub-sector of industry, but some cover processes or functions.'
For example, the Airport Operators Association.
Federation
'A group of membership organisations or professional associations that have joined together to form a larger, usually representative organisation or governing body.'
It is, in effect, an association of associations.
For example, the British Coatings Federation.
Confederation
'An umbrella organisation consisting of representatives from different membership organisation, associations and/or stakeholder organisations, each governing itself but also working together in an alliance for business or political reasons.'
In effect an association of federations.
For example, the Agricultural Industries Confederation.
Alliance
'Most formal alliances are forged between organisations with a shared common interest or ideal. A likely objective would be that the combined effort will generate optimal results as, for example, when two organisations conduct similar work. A working example would be a group of medical associations forging an alliance to lobby government on a particular health concern with a shared interest of improving public health.'
For example, the Energy and Utilities Alliance.
Institute
'The term institute is a protected word and appears on the sensitive words list from Companies House. Companies or other organisations may only use the word if they are 'organisations which are carrying out research at the highest level or professional bodies of the highest standing'.'
For example, the Institute of Architectural Ironmongers.
Some associations use other names such as:
Example: The Events Industry Forum
Example: Business Visits & Events Partnership
Example: British Compressed Air Society
Example: Gas Vehicle Network
Example: Guild of Architectural Ironmongers
Example: Heating and Hot-water Industry Council
Example: Internet of Things Security Foundation
Example: Register of Apparel & Textile Designers
The Trade Association Forum is the trade association of trade associations and, not surprisingly, 70% of associations on their directory are trade associations.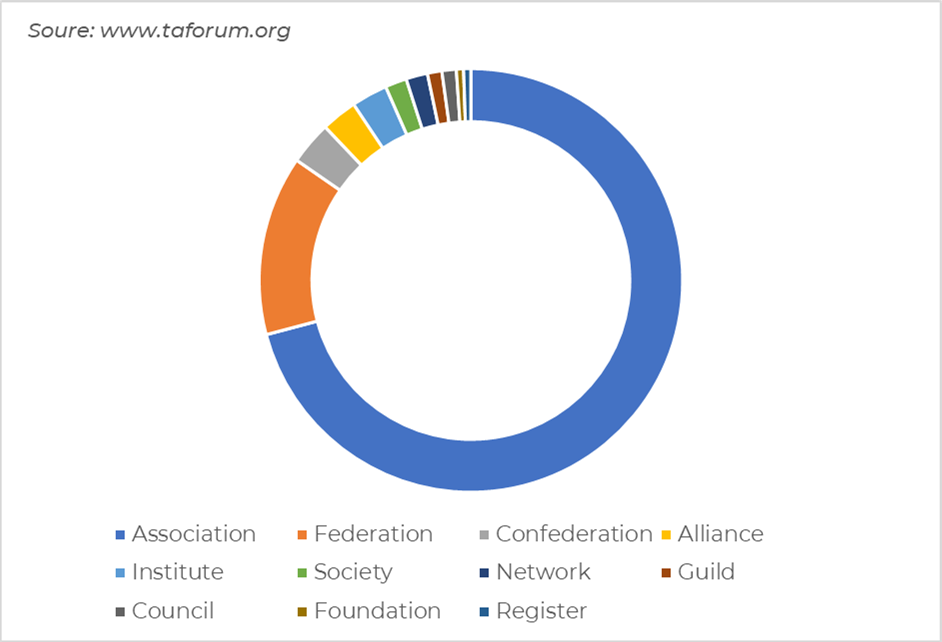 Click here to find out how we can help your association, federation or confederation. Alternatively, call 01379 788032 or email info@theamc.org.uk. We would be delighted to hear from you.